Ibiza – a magical magnetic Island off the coast of Spain – a short Ferry ride from Barcelona. A brand in itself – cars and songs are named after it.
The thing that first strikes you when exiting the plane is the heat and humidity followed closely by the smell. It isn't the smell of jet fuel or indeed a Jet2 Plane, but rather, a eggy sort of smell. It is also met by the exuberance of it's newly landed, slightly intoxicated holiday makers awaiting their week or fortnight long vacation in the blistering sunshine of Ibiza.
Accommodation
There are of course lots of placed to stay in Ibiza. You can drive from one end to the other in about 1 hour or so, so this is a very small Island.
San Antonio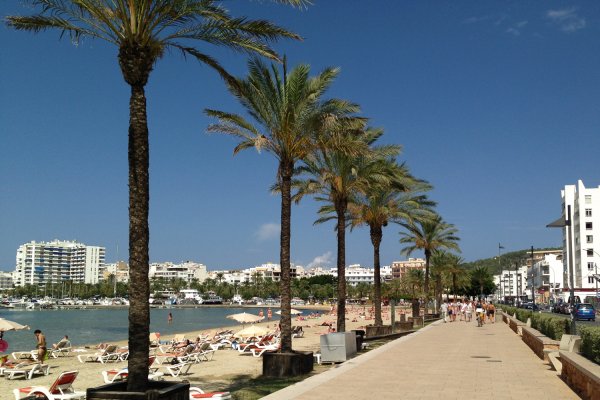 Cheap as chips – you can literally purchase traditional English fish and chips in San Antonio. The accommodation ranges from decrepit 1990s musty dumps to more luxurious, newer apartments and villas, including the infamous Pikes Hotel – now Ibiza Rocks House.
I stayed in a fantastic Hostal to begin with, Hostal Tarba in San Antonio. Not the cheapest but close. A rarity in Ibiza, a modern, newly furnished Hostal with extermely friendly staff. The only real negatives were the noisy aircon, poor food and the occasional drunk, loud noises at 4 in the morning, which goes hand in hand when staying in the party hotspots of San An and Playa d'en Bossa.
The opposite of Hostal Tarba's modern, clean 'home from home' style was Hostal Torres – I read this as 'Hostal Terrible'. This was in dire need of a style makeover on epic proportions. Just a grimy dump.
Orosol Hotel and Studios is almost next door to Hostal Tarba and I stayed here in 2006. A fairly generic hotel with a nice pool.
I have also stayed in The Arenal Hotel which is along San Antonio Bay – this is more of a family orientated hotel but is certainly a nice place to stay when you need valuable sleep.
Hostel Rosalia – I stayed here many moons ago – around 13 years ago I believe and it's still there today. A plain single room with shower facilities in a separate room. Only stay here if you plan to spend your time in Ibiza at the beach or by the pool, no aircon and a bit of a dump.
Marco Polo – Musty old hotel with a seriously rude night porter who I believe has some sort of customer service phobia.
Playa d'en Bossa (PDB)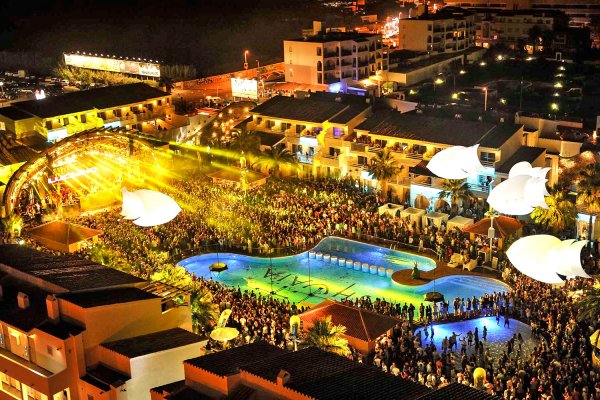 Classic Ibiza, a short 15 minute bus ride up to Ibiza Town (Evissa – Catalan for Ibiza Town). This is where you will find a more eclectic selection of people from differing nations – mainly Europeans so expect German, Dutch, Italian and French.
This is overall a more expensive place to live vs San Antonio, with prices equal or more than London. Expect to pay £500pm for a double room apartment, if you're planning on spending the summer living and working in Ibiza. Most apartments are geard towards 2-3 people staying in the same room. Not nice.
A Hotel I stayed in in 2007 was  the Bon Sol Apartments. The cheapest in PDB and for good reason! Firstly, They put me in a ground floor studio near a swimming pool and LOUD SPEAKERS on the wall which started from around 9 – 10 in the morning – so good luck getting any sleep whilst on vacation. After I complained, they put me in the block of flats near the reception. This had extra tenants in the form of Cockroaches! I don't often watch reality garbage on UK Television but I'm a Celebrity, Get Me Out Of Here is something I occasionally dip into when it is broadcasted on ITV with the Geordie Jokers. At least you can get an idea as to whether or not you could do a Bush Tucker Trial if you were ever a Celeb that is. Shame there was no blender, could have made a Cockroach Smoothie!
In 2011 I stayed for one night in the same apartment block – right at the top of the block and had no 'little friends' visiting me this time. This was a basic single room though vs the studio self=catering cockroach infested minging hole like in 2007.
I also stayed in Figuerettas during 2007 with two workers, sharing one room with a girl. I still remember Victoria Webb from Evesham not giving my whole deposit back when I left the flat in September 2007 – she worked at Big Bens (now named something different) in Playa D'en Bossa. It surprised me when she almost went from someone i knew to this hard-nosed hollywood actress assertively telling me she wasn't giving all the deposit back, like a fraudulent banker. It's amazing how some people can lie and cheat their way through life and be so greedy over money. It's a classic example of how you need to have your wits about you when travelling and especially advertising the fact that you have anything of value – ie laptops and cameras. You should also check out 'The Wall of Pain' at the Shipp Inn or various Internet Cafes around the Island Reward for Stolen iPhone / Laptop / Camera' messages a plenty!
Page 2 for Transport Advice, Page 3 for living, working and filming in Ibiza Advice